The Right Information, Right Now.
Become a Wisegate member and build your company with on-point info you can trust.
Your Own Personal IT Advisory Service
We know that finding relevant information you can trust can be daunting. Wasting time and energy sifting through endless data can be frustrating and still not provide you with the answers you seek.
Analyst reports play an important role, but they often discuss last year's technology issues, and offer abstract analysis that's not immediately actionable. Vendors are happy to provide you with "helpful" information, but what are the chances what they provide you with isn't biased toward the decision they want you to make? Traditional research company subscriptions offered by groups such as Forrester, Gartner, IDC, and others can't provide you with the current It expertise and information in the same manner that Wisegate can.
Decisions need to be made. With Wisegate, you can feel confident that you are getting the most up-to-date information to help you better your business and make the right decisions.
| Wisegate Crowd Sourced IT Collaboration Service | Traditional Approaches |
| --- | --- |
| Peers and research assistants provide advice and guidance. | The expert with the answer to your problem is outside your network. |
| Pulls peer-proven knowledge, actively curates it, and presents it to you. | No single team can understand the ins and outs of the current crop of IT problems. |
| Library of IT-practitioner research, tips, tools & templates. | Sifting through web takes time (and is often not relevant). |
| Tool to organize, navigate and find the best information on the most important topics. | Analyst reports offer abstract analysis that's not immediately actionable |
Benefit from the Wisegate Braintrust
You've heard all about chains and their weakest links; about birds of a feather; about great minds... and we have too. Which is why at Wisegate, we make sure that all of our members are highly experienced, extremely knowledgeable, senior IT professionals.

Wisegate Members Speak

"You have this open forum to allow people to share their ideas and draw their own conclusions... that to me is compelling."

"I think Wisegate is helping evolve information security as a profession."
Your Own Personal IT Advisory Service — At Your Fingertips

Quicker Decisions
As simple as posting a question on your smart device and in minutes you get advice from your IT peers.

First Hand Insights
Advanced Matching and social technology connects you senior IT and Infosec pros

On Demand Resources
Questions, answers, and content sharing — for trusted, timely resources you can put to use now.

Trusted Advice
Based on YOUR specific IT challenges. No broad enterprise or industry agendas here.

Hands-on Help
Live roundtable calls, brokered 1:1 discussions and Q&A sessions.
Wisdom Delivered
There is an easier way to stay on top of the latest trends, tools, tips and talk, especially in the ever-evolving areas of security, IT efficiency and career growth. Get trusted insights when you want them. Choose from our free subscriptions and stay on top of the latest trends and more!
Learn More
As Seen In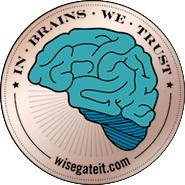 About Wisegate
Wisegate is an invitation-only crowdsourced collaboration service for IT leaders. Part knowledge community, part analyst firm, Wisegate unlocks the traditional knowledge gates, connecting peers, hosting virtual roundtables, and producing and analyzing customized research, surveys, and more.