CISO Risk Management: Against All Odds
Smart CISO Decision Making in a World In Flux
Quicker Decisions, Better Results
As IT security point-person, you manage risk. But the task is near impossible, according to recent trends:
You average 136 decisions weekly, 50% of which must be made in less than 10 minutes.
More than 50% of IT projects fail, citing snafus in delivery time, budget and deliverables.
Your runway is short — the average CISO tenure is only 18 months.
Trusted information is tricky — from biased articles to academic reports to examples that lack proof, and little time to review any of it.
Wisegate was purpose-built to navigate this sea of information, providing access to experts and offering dedicated curators to coordinate information, introductions and guided decision-making.
Benefit from the Wisegate Braintrust
You've heard all about chains and their weakest links; about birds of a feather; about great minds... and we have too. Which is why at Wisegate, we make sure that all of our members are highly experienced, extremely knowledgeable, senior IT professionals.

Wisegate Members Speak

"You have this open forum to allow people to share their ideas and draw their own conclusions... that to me is compelling."

"I think Wisegate is helping evolve information security as a profession."
Your Own Personal IT Advisory Service — At Your Fingertips

Quicker Decisions
As simple as posting a question on your smart device and in minutes you get advice from your IT peers.

First Hand Insights
Advanced Matching and social technology connects you senior IT and Infosec pros

On Demand Resources
Questions, answers, and content sharing — for trusted, timely resources you can put to use now.

Trusted Advice
Based on YOUR specific IT challenges. No broad enterprise or industry agendas here.

Hands-on Help
Live roundtable calls, brokered 1:1 discussions and Q&A sessions.
As Seen In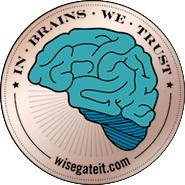 About Wisegate
Wisegate is an invitation-only crowdsourced collaboration service for IT leaders. Part knowledge community, part analyst firm, Wisegate unlocks the traditional knowledge gates, connecting peers, hosting virtual roundtables, and producing and analyzing customized research, surveys, and more.